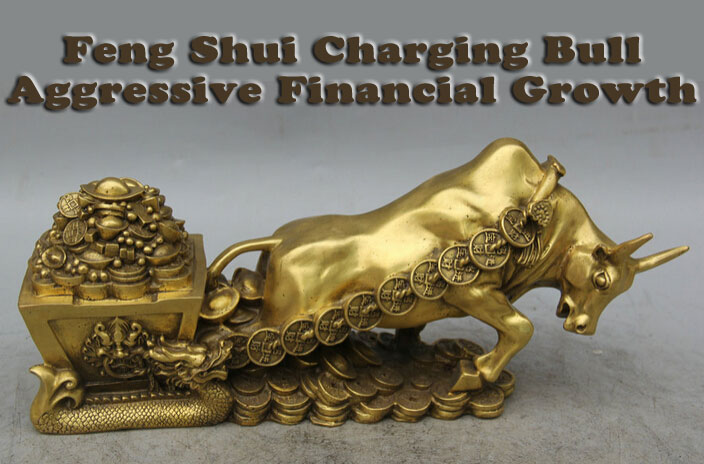 Feng Shui Charging Bull is similar to the one at Wall Street. It is commonly known as Wall Street Bull also. It is used in Feng Shui to generate aggressive energy in financial situation. Bull symbolises power, strength, speed and optimism. By placing this in the abundance corner of the office or house helps to bring the Bull Run in one's financial situation. It symbolises ultimate gain, success and incremental prosperity.
With current market situation and demonetization, we all might be affected some way or other. To overcome this situation and be bestowed with aggressive financial growth, Feng Shui Charging Bull/Ox has given wonderful results.
When should Charging Bull used
The best time to have on is during low market conditions or recession period. It is best when you are going through tough times in your job or business. It is also used during financial crisis or downfall in the overall economy.
How to Choose the Charging Bull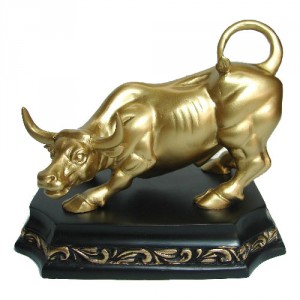 Feng Shui Charging Bull is a handsome figurine, muscular body, strong looks, two projecting horns, leaning back on its gut feeling and with head lowered. He is all set and ready in charging position.
In Indian Mythology, Bull/Ox are worshipped and is auspicious. People have deep belief that any wish is whispered in ears of an Ox/Bull, it is heard by Lord Shiva and is for sure granted. It is most close to Lord Shiva and appeals him for granting our wish. It has the power to grant all our wishes into a reality.
Where should Charging Bull placed?
It can be placed at home or in office.
When placed in the house, in the living room or in the office, it helps to protect you from ill intentions of other for you. It protects you from people with negative energies.
It is placed in SouthEast corner for Wealth accumulation as it is the direction of Wealth in FengShui.
It can also be placed in the North for Money flow through your career enhancement. Water is the element of North resulting in flowing of wealth when used this direction.
It can also be placed in your abundance direction. Ensure the charging Bull is Programmed and Energised for you when placing in the personal lucky directions. You can find out your luck direction from Lucky Directions for Abundance.
For any sort of clarifications of the product, orders, price, shipping charges, etc. mail to [email protected] or call 09867-152220. Follow me on Facebook for regular updates.
IMPORTANT NOTE: All the products sold by us are PROGRAMMED and ENERGISED to your specific intention and goals. The aim is to attain highest potential positive results. As it is programmed it assures long-term life because only energised products have the capacity to generate energy for a short period. It requires repeated energising. Programming eliminates this recurring activity.
Share This: