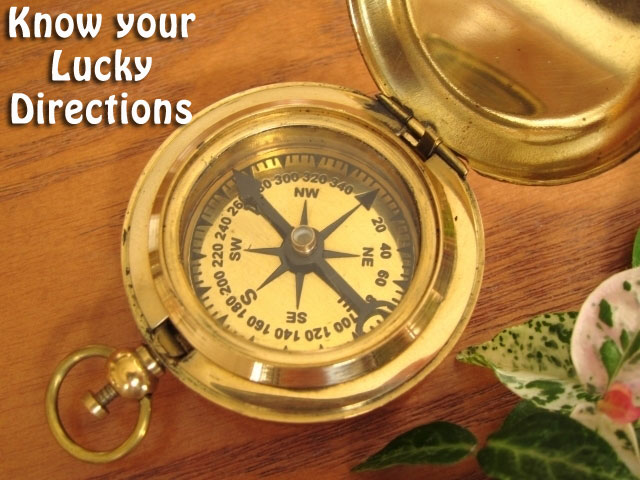 Almost each of my clients, ask me about what is their luck directions.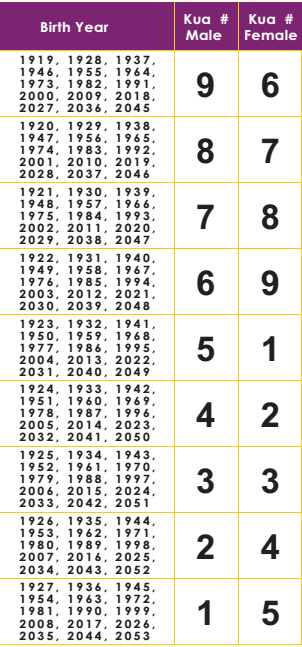 The Eight Mansions formula (KAU Formula) of the Feng shui compass, is one of the most powerful formula to calculate personalised auspicious and inauspicious directions. It is very easy to practise. This formula will help you find your best and worst directions. Once you know your lucky directions, all you need to make sure you are facing these directions while you sleep, sit, work, have a meeting or give a presentation. With this small change, you will develop the most out of your auspicious directions.
As per Feng shui, each one of us belongs to one of the two groups, East or West. As you can see, they are extreme opposite directions; the groups are also in conflicts with each other. So it is very important to check the direction you are facing and to which group it belongs, to make sure you are using directions of your own group. So, which means, we need to first identify which group we belong. To do this we need to calculate our KUA Number.
Now there are 2 ways to get your KUA Number, one, by real calculations, which is complicated if you are born in January or February, as you will need to refer to Chinese Lunar Calendar for your birth year. Another way is just referring to the KUA Chart.
To make it simple, refer I to the adjacent image of the chart to identify your KUA Number based on the year of birth. In this chart, you just need to find your birth year and you can see the KUA number in the adjacent column.
Are you East group or West group?
With your Kua number, now we can know which group we belong. So by now, I hope you know your KUA Number. I have also located mine and my Kua number is 9.
All East group people will have Kua Number – 1,3,4 and 9. I belong to East group.
Similarly, all West group people will have Kua Number – 2, 5, 6, 7 and 8.
Lucky direction for East and West group –
Now, let us look at the luck directions for each group people.
Lucky Directions for East Group people – East, SouthEast, North and South.
Lucky Directions for West Group people – West, SouthWest, NorthWest and  NorthEast.
Now all you need to do is to enhance these directions and try facing them to invite abundance, prosperity and fortune in your life.
I will share with you tips on how to enhance your lucky directions shortly. Stay connected on Facebook. Leave a comment for any specific help required.
God bless you.
Share This: