Today, I have shared a case study where there was a limited scope of work but expectations were high. I had worked with Brahmasthan of the house for this client whose story I have shared today and got satisfying results. You can use the recommendations mentioned here but would insist get professional help as it is a very sensitive area we are discussing today.

Case Study on Brahmasthan
One of my clients purchased a new home of around 2000 sq ft house. He did not want to disturb the interior of the house and was very obsessed with the design and things he had planned to display. There was very low scope to rectify the poor energy areas.
When I visited the site, the house was beautifully planned and well arranged. Even I felt for a moment, pyramids will disturb the beauty. The only scope left with me was to uplift the energy of the house. With this idea in mind, I started reading the energies and preparing the report.  Most of the room allocations were as per general Vastu principals as he had already confirmed with me while planning room allocation. So that was not much of a concern. The only concern area I found to work on was the common toilet and the guest room. Both were emitting negative energies and disturbing the balancing of energies in the house. The guest room was in NW and it was also the sector of career growth, so it was more important to rectify.
During my studies, I remembered we all had this question popping up how do we help clients who are not willing to use pyramids which are visible. Even at my home, while shifting to the new one we purchased, I was given clear instructions about no using big pyramids that are visible all around. My husband use to remind me every time telling, "Manisha, can you keep the home simple yet energetic without these big pyramids?" Trust me; pyramids are not big, hardly 4.5 x 4.5 x 4.5 inches. This is a mental block of people. But Vastu has solutions for people with such mental blockages too. Idea is to do things which are happily accepted as it works with the energies of happiness and belief.
I decided to work on the Brahmasthan. Brahmasthanis the center of the house. It is the source of energy in the house. In one of my earlier post, Vastu tips for homes, I have mentioned few tips about Brahmasthan. I decided to uplift the energy of the house by uplifting the Brahmasthan. So I decided to use the Bhramasthan Pyramids.
Brahmasthan Understanding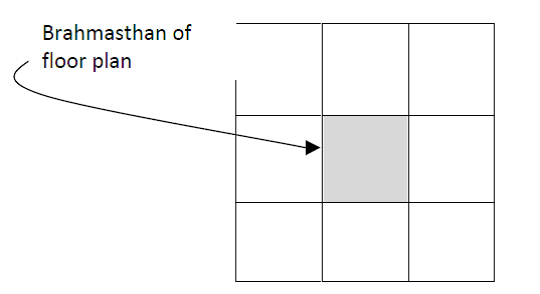 BrahmasthanPyramids are placed under the ground, in the center of the house, in a pair, upside own. They rectify the energy under and above the earth both. My client was happy as nothing was visible out, so no one comes to know about it. I was happy as I could give the solution to my client that benefited him. Today, he repeatedly thanked me for the solutions we implemented as he has been experiencing the drastic change of energy in the house.
Many of us have similar constraints implementing Vastu rectifications and so we don't feel to seek advice also. It is leading to living in imbalanced energies, affecting many areas of our life. There are many such resolutions which can be used and get benefited. Suggest you stay connected with us to know experiences and case studies shared in future.
Share This: