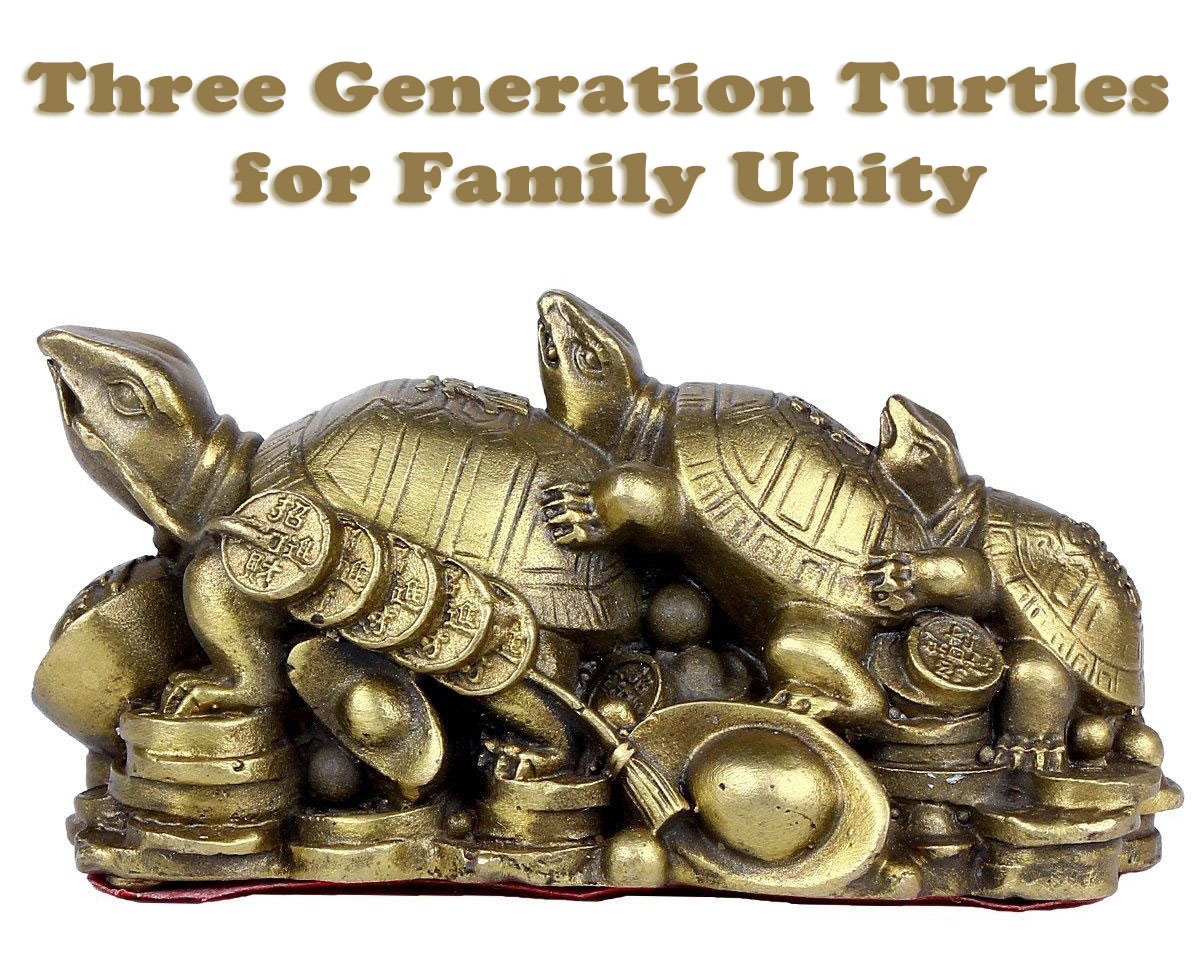 Three Generation Turtles is a Feng Shui symbol to build unity among the family members. This is used by almost all Chinese houses as they have bigger families. There are different types of turtles available in the market but we are going to focus on two types of Three Generation Turtles today. One for family unity and other for heavenly blessings. We will see how to know which one to use for what and where it is to be placed.
With modernisation in our culture, the family size is shrinking. Even with the smaller family size, the members don't go along with each other. I have seen in many families, members suffer from communication gaps, harmony among members and most importantly lack of unity. Using Three Generation Turtles has helped them and I have one in my own house too.
Three Generation Turtles for Family Unanimity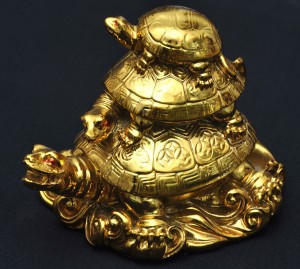 This statue is with three turtles of different sizes sitting on each other's back, symbolising three generations. Three Generation Turtle signifies solid bonding among the family members. It helps to reduce the generation gaps and bring about cooperation among family members up to three generations. This is placed in the East of the living room. It is generally Green in colour. A multicolour figure is also ok to use.
Three Generation Turtles with Dragon Head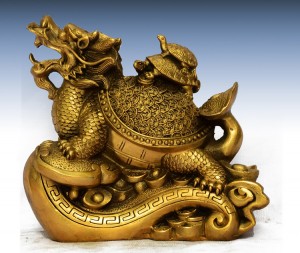 The other Three Generation Turtles available in the market and used in Feng Shui is turtles with Dragon head. This is a specialised version of the standard one discussed above. This is the combination of two Feng Shui symbols – the Dragon Headed Turtle and the Three Generation Turtles. The Dragon Head Turtle is believed to bring the heavenly luck and protects from negative energies.
In Chinese mythology, it is said that the life of this Turtle is expected to be of 10,000 years. Hence it blesses with Longevity along with heavenly luck. When a Three Generation Turtles with Dragon Head is used it blesses with Career Luck, Success, Good Health and Long life, Loving Relationship Luck, Child Luck, Strength and Support, Auspicious Blessings along with Family Unity. The Three Generation Turtles with Dragon Head is placed in the North or the East direction of the Living Room of the house.
There are many types of Turtles available. Hence it becomes very important to choose the right ones. You can reach out to me to get the right one for you.
For any sort of clarifications of the product, orders, price, shipping charges, etc. mail to [email protected] or call 09867-152220.
IMPORTANT NOTE: All the products sold by us are PROGRAMMED and ENERGISED to your specific intention and goals. The aim is to attain highest potential positive results. As it is programmed it assures long-term life because only energised products have the capacity to generate energy for a short period. It requires repeated energising. Programming eliminates this recurring activity.
Share This: