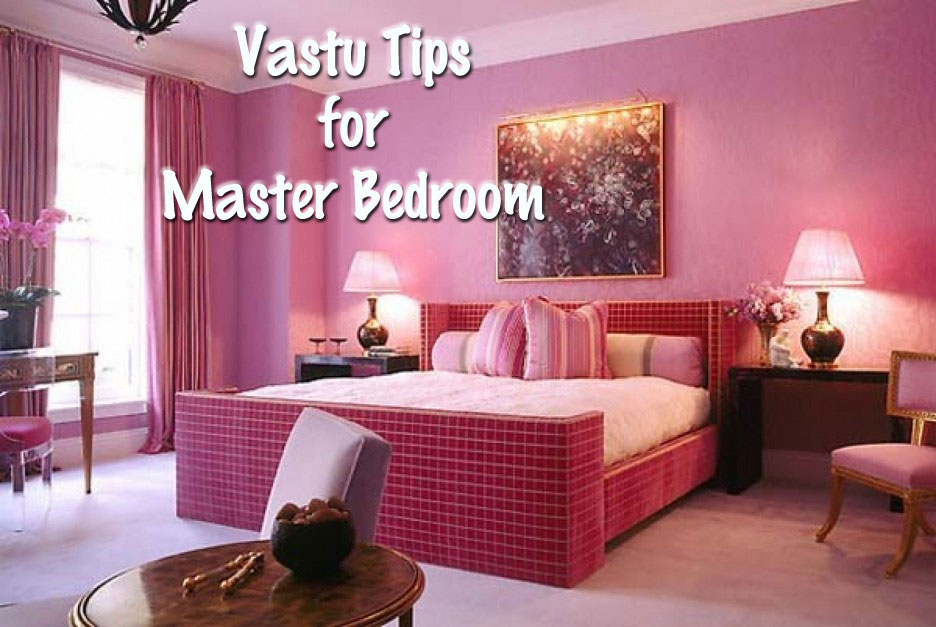 Vastu for Master Bedroom is the critical area to focus on as bedroom signifies relationship, relaxation and privacy. After the hectic day, we aim for relaxation and bedroom plays an important role here. In Vastu Shastra, Master Bedroom is one of the high priority areas as it is associated with fertility and family growth also.
Today, I am going to share few tips on Vastu for Master Bedroom that will help to eliminate the defects in the house. It will aid to promote relaxation and strong relationship. Location of the bedroom has to be as per the role of the individual in the house.
Vastu for Master Bedroom for Head of the Family
Direction –

SW bedroom is ideal for the head, earning member of the family. For multi-story homes, SW corner of the top floor is suggested for the Master Bedroom.

Size –

It is advisable to have the biggest room in the house as the Master Bedroom.

Shape –

The most appropriate shape of the Master Bedroom should be Square or rectangle.

Placement of Bed –

 Vastu for Master Bedroom suggest the position of the bed should be in South or West wall in the Master Bedroom. The bed should not face the door (Bathroom & Room entrance) directly by any means. The bed should not be placed attached to the corners of the room.
Master Bedroom should be used by only married couples.

Colour –

 Light shades of Red, Violet, Pink or Chocolate should be used in the Master Bedroom.

Placement of Dressing Table –

Ideal location for dressing table is in the North or East. It can be with or without the mirror. If the mirror is used, ensure the bed is not directly reflected in the mirror.
Avoid Computer, Laptop, TV, etc in the Master Bedroom.
Plants, aquariums, waterfalls are not allowed in the Master Bedroom.
Place Outer Protection (Outer Bagua – buy now) outside the bedroom to protect it from external negative energies.
Also, read 5 Things You Should Not Have in your Home as they are applicable for the Master Bedroom also.
The same article will be published in Hindi shortly – मास्टर बेडरूम के लिए वास्तु टिप्स.
For any sort of clarifications of the product, orders, price, shipping charges, etc. or guidance and counselling, mail to [email protected] or call 09867-152220.  Follow me on Facebook for regular updates.
IMPORTANT NOTE: All the products sold by us are PROGRAMMED and ENERGISED to your specific intention and goals. The aim is to attain highest potential positive results. As it is programmed it assures long-term life because only energised products have the capacity to generate energy for a short period. It requires repeated energising. Programming eliminates this recurring activity.
Share This: